Great day and lots of fish at Ft. Morgan
Great day and lots of fish at Ft. Morgan
Trip Info
Spanish Mackerel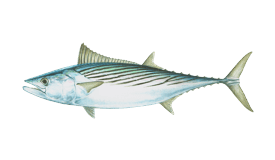 Bonito
Snapper (Red)
Bluefish
Customers wanted to do an 8 hr. combo trip consisting of trolling and structure fishing with live baits. The action was nonstop the whole trip. Trolling produced lots of Spanish Mackerel, Bonito, and Blue Fish. Fishing the Rigs off of Ft. Morgan and Dauphin Island with live croakers produced some very nice Red Snapper. All fish were released to live another day…
Book your trip with Tidalist Charters LLC
About The Captain
Robb Hall
Orange Beach AL, United States • Member since June 2017
I've spent the greater part of my life fishing both the freshwater systems of the southeast and the saltwater of the Gulf of Mexico. My passion is sharing my experience with customers and providing them with opportunities to get out and connect with some of the most exhilarating fishing trips the Northern Gulf of Mexico has to offer.
Response time: within an hour
Response rate: 100%
---

Защита от плохой погоды
Непогода? Мы поможем перенести тур или вернем депозит.
Гарантия лучшей цены
Нашли тот же тур, но дешевле? Мы возместим разницу!
Надежный сервис
Мы готовы помочь вам найти идеальную рыбалку 7 дней в неделю.
Безопасная оплата
Бронируйте через нашу надежную платформу с удобными способами оплаты.