Fishing Report Big Pine Key, Florida
Fishing Report Big Pine Key, Florida
Trip Info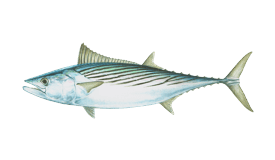 Bonito
Cobia
Yellowtail Amberjack
Fishing in The Florida Keys this time of year is always great. You have your choice on species and you will never, ever go home with an abundance of dinner. This past week we traveled out to beautiful Content Key in Big Pine Key. If you have never explored or fished this area, I would highly recommend adding it to your fishing list! Just mind blowing. So, we anchored up near a secret spot of corals, rocks and a small reef in the backside of Content. The Bonita ran through, hooked a limit of snapper, hogfish and an out of season grouper. Come fishing In Big Pine Key with Boneafide Charters. See you soon!
Book your trip with Boneafide Charters - 29' SeaVee
About The Captain
Jason Gabriel
Summerland Key FL, United States • Member since March 2015
Fishing charters in the Lower Florida Keys. My name is Capt. Jason Gabriel. I'm the owner and operator of Boneafide Fishing Charters in the Lower Florida Keys. I've been fishing down here since I was about four years old. Grew up in South Florida. Had a passion for light tackle and offshore fishing. I got on the water at a very young age and just loved every aspect of angling. Spin, fly, conventional. I just love to put my friends and my family on fish and the passion grew to where I could actually do this for a living which is the greatest job in the world. I'd love to get you out on the water. We offer a variety of charters for every lifestyle and budget. We have 2 boats available. 29ft. SeaVee, 18ft. Hell's Bay. 305.986.3211
Response time: within an hour
Response rate: 97%
---

Защита от плохой погоды
Непогода? Мы поможем перенести тур или вернем депозит.
Гарантия лучшей цены
Нашли тот же тур, но дешевле? Мы возместим разницу!
Надежный сервис
Мы готовы помочь вам найти идеальную рыбалку 7 дней в неделю.
Безопасная оплата
Бронируйте через нашу надежную платформу с удобными способами оплаты.