The Bite is getting HOT!
Trip Info
Amberjack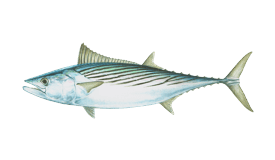 Bonito
Shark (Blacktip)
Snapper (Mangrove)
Triggerfish (Gray)
It was a gorgeous day out on the water! Sunshine with blue skies and just enough breeze to keep you from sweating. We had an awesome 6 hour trip with 9 new friends from Alabama. They caught plenty of white snapper, triggerfish, big jacks, and even a 6 ft. shark! We even caught several large grouper and big red snapper but had to throw them back as they were not in season. Overall it was a hugely successful trip and our guests couldn't be happier. They even went ahead and snagged a date in June to come back for those big REDS! Book your charter now before its too late!
Book your trip with Mighty Fine Charters
About The Captain
Mighty Fine Charters, Llc
Destin FL, United States • Member since April 2016
Mighty Fine Charters and Silver Hook are run by family members of a staple of the Destin charter boat scene, and helmed by the experienced Captain Bud Miller They have come about as a result of decades of fishing experience and the desire to provide affordable, fun, and family friendly charter trips.
Response time: within an hour
Response rate: 100%
---

Защита от плохой погоды
Непогода? Мы поможем перенести тур или вернем депозит.
Гарантия лучшей цены
Нашли тот же тур, но дешевле? Мы возместим разницу!
Надежный сервис
Мы готовы помочь вам найти идеальную рыбалку 7 дней в неделю.
Безопасная оплата
Бронируйте через нашу надежную платформу с удобными способами оплаты.