Offshore St. Augustine
Trip Info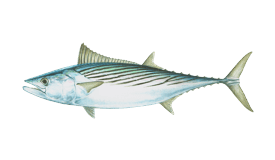 Bonito
Cobia
Jack Crevalle
King Mackerel (Kingfish)
Live bait hard to come by but worth the time it took to catch it. Used scaled sardines and cigar minnows to troll the artificial reef systems off St. Augustine this morning. We missed a few and caught some throw backs (bonita and 1 jack crevalle about 35 pounds) but kept 1 cobia about 20 pounds, 1 king mackerel about 28 pounds and one bonita (for bait later). Had a ball fishing with Barry and Brook. I look forward to fishing with y'all again in the near future. (Say hello to Texas for me). See you on the pond, Capt. Guy
Book your trip with MisStress Sportfishing Charters
About The Captain
Guy Spear
St. Augustine FL, United States • Member since May 2015
I've been told they have pictures of me fishing in a mud puddle in the back yard at 5 years old (and catching fish), though I've never seen these pictures. After serving 20 years in the US Navy, traveling and fishing all over the world, and running the Navy's charter boat for Moral, Welfare. and Recreation as a part time job in Bermuda for 3 years, I retired in '90 and became a charter fishing boat owner/operator. I have literally fished all over the world. I have been lucky enough to fish for and catch Pacific Blue Marlin in Hawaii and Atlantic Blue's in Bermuda, the Bahamas, Texas, and Florida. I've caught Sailfish in Mexico, Texas, the Bahamas, and Florida as well. Now I specialize in teaching/instructing young (and not so young) anglers in light and medium tackle live bait trolling techniques, bottom fishing, and light spinning tackle (live and plastic bait) fishing in the ICW and its feeder creeks.
Response time: 1 hour
Response rate: 99%
---

Защита от плохой погоды
Непогода? Мы поможем перенести тур или вернем депозит.
Гарантия лучшей цены
Нашли тот же тур, но дешевле? Мы возместим разницу!
Надежный сервис
Мы готовы помочь вам найти идеальную рыбалку 7 дней в неделю.
Безопасная оплата
Бронируйте через нашу надежную платформу с удобными способами оплаты.