From the Captain's Log: 8/6/16
From the Captain's Log: 8/6/16
Trip Info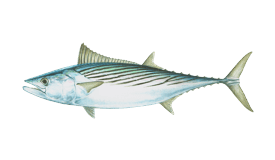 Bonito
Dolphin (Mahi Mahi)
We had a short trip today with the Dalton crew.
We headed out to find some king mackerel, since the bite has been really hot. For some reason, the kings didn't cooperate today but the bonito were thick.
We caught everyone's fill of bonito and decided to head to a different area and on the way we found a mess of mahi on some debris. We had to get creative since they were being a little finicky, but we managed to put quite a few in the box before we headed in.
The highlight of the day, was 6 year old Peter catching a mahi on his Teenage Mutant Ninja Turtle rod. He hooked and caught it all on his own, which made it even sweeter. Definitely a moment I'll never forget and I don't think he will either.
Hope to see the crew back again soon!
Tight Lines, Captain Jesse
Book your trip with Gulf Life Charters
About The Captain
Jesse Johnson
Pensacola Beach FL, United States • Member since April 2016
I grew up just south of Tallahassee in the Big Bend where my father was a charter Captain for many years. As early back as I can remember, Dad was taking me out on the boat and sharing his love of fishing with me. Some of the best times of my life have been spent on the water. My beautiful wife also comes from a family who loves to fish and so often times, it becomes a family affair. Over the last 30 years I've learned to respect the ocean and how to keep my passengers safe on the water. I've realized the only thing I love more than fishing, is taking out others fishing. Fishing is a way of life for me. So it was only natural to finally live my dream of becoming a Charter Captain. I can't wait fish with you!
Response time: 3 hours
Response rate: 100%
---

Защита от плохой погоды
Непогода? Мы поможем перенести тур или вернем депозит.
Гарантия лучшей цены
Нашли тот же тур, но дешевле? Мы возместим разницу!
Надежный сервис
Мы готовы помочь вам найти идеальную рыбалку 7 дней в неделю.
Безопасная оплата
Бронируйте через нашу надежную платформу с удобными способами оплаты.