Shine On Harvest Moon
Trip Info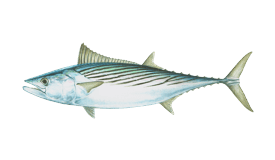 Bonito
Dolphin (Mahi Mahi)
Our afternoon "all inclusive" charter was a team building event for a group of corporate exec's. The weather was beautiful, bright blue sky and flat calm seas. We spotted some birds working the surface and our guests started off the day by catching a nice Bonito and everyone was excited about what else they might catch. We continued trolling offshore and found some seaweed patches in about 430 feet of water, which was holding lots of small fish. (a great tip is to catch some of those live baits using a Sabiki rig) and as you troll by the patches look down into the water and try to "i spy" the Mahi-Mahi. (typically they'll be silver and blue when they're swimming freely). When you see the Mahi, stop the boat and toss a handful of free-bees and pitch a few on light spinning rods. If the Mahi are there it wont be long before the action begins. We caught and released several nice Mahi and kept a few for an amazing dinner and for desert we were treated to an incredibly beautiful Harvest Moon!

Book your trip with Fintastic
About The Captain
Brothers Ron and Howard Albert
Miami Beach FL, United States • Member since May 2014
Brothers Ron and Howard Albert grew up fishing off the Florida coast. They have been guiding charters since 1982, specializing in a variety of techniques such as Deep Sea Sport Fishing, Live Bait Kite Fishing, Trolling, and Deep Dropping .
Response time: 2 hours
Response rate: 100%
---