Tarpon on the Beach
Trip Info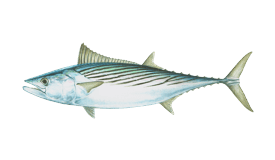 Bonito
Spanish Mackerel
Started out on the beach north of Sebastian Inlet with Tarpon on our minds. First thing in the morning we jumped a couple of small schools (60 lb. fish) but they were headed somewhere else and not feeding. Shortly there after we came into several huge schools of bonita ranging from 6 - 15 lb. and Spanish Mackerel up to 8 lbs. There were endless supplies of these fish. By Noon we had worn ourselves out on them and headed for the beach.
Book your trip with Spot Stalker Charters - Titusville
About The Captain
Todd Vivian
Titusville FL, United States • Member since September 2016
I began fishing the flats and backwaters of Florida over 20 years ago. I have lived in Florida now since 2008 and spend over 200 days a year on the water in the Mosquito Lagoon and North Indian River areas. I grew up in the Pacific NW and fishing is some of my earliest memories. After college I went to work for Lamiglas, Inc. as a rod/blank designer. Lamiglas is one of the NW's largest Fishing Rod Manufacturers. After 20 years designing rods for Lamiglas I moved to Florida where I have been designing rod building components and equipment along with rod blanks for Mud Hole Custom Tackle.
Response time: 1 hour
Response rate: 100%
---

Защита от плохой погоды
Непогода? Мы поможем перенести тур или вернем депозит.
Гарантия лучшей цены
Нашли тот же тур, но дешевле? Мы возместим разницу!
Надежный сервис
Мы готовы помочь вам найти идеальную рыбалку 7 дней в неделю.
Безопасная оплата
Бронируйте через нашу надежную платформу с удобными способами оплаты.